Our Mission
The University of Chicago Consulting Club is a student-run organization founded to help undergraduate and non-MBA graduate students learn about and prepare for careers in the consulting industry.The primary goal of the UCCC is to be a strong resource for students preparing for recruitment along both the short- and long-term timescales. To that end, we offer a variety of events, including:
Presentations by visiting consulting firms on a variety topics such as making the most of a summer internships and other general topics
Panel discussions with consultants in various phases of their careers in order to gain inside knowledge about the career path
Case competitions to provide further networking opportunities and exposure to real-life consulting cases
General professional development opportunities to help students become more competitive when approaching recruiters.
Although the majority of our members are interested in exploring careers in business management consulting, we welcome students who are pursuing careers in other consulting fields, including, but not limited to, human resources, (HR), information technologies (IT), search engine optimization (SEO), healthcare, biotechnology, and economic consulting.
Our Executive Board

Name: Anthony Martinez
Position: President
Education: PhD Candidate
Department: Chemistry
Graduation Year: 2015

Anthony is interested in applying the quantitative and analytical skills of a chemist to business-oriented endeavors.


Name: Grace Chang
Education: Undegraduate
Department: Statistics, Economics
Graduation Year: 2015

Grace is interested in graphic design, data driven decision making, and business strategy.


Name: Lina
Education: Undegraduate
Department: Economics
Minor in English and Creative Writing
Graduation Year: 2015

Lina is interested in applying her
broad interests through working with different clients in different industries and functions.


Name: Negar Mirsattari
Education: PhD Candidate
Department: Computer Science
Graduation Year: 2014

Negar is interested in management consulting with special interests in technology and finance.
---
Our Members
Activities
The most active and interested members will be selected to present cases and companies to other members. This is meant to promote presentation and research skills while for the presenter while also helping other students. This coming year, UCCC will pilot its editorials program where members write articles about consulting and other business related topics. UCCC also holds social events for its members to strengthen its community.
Resources
UCCC has a variety of resources that range from case sessions to online resources. These resources are meant for members only, meaning that members should contact uc.consulting.club@gmail.com for more information.
Getting Involved
UCCC is meant to be a resource for students and highly values hard work and dedication. We desire to help people tap into their potential and allow them to better reap the benefits from their hard work.

To join, please sign up for our listhost here and be on the lookout for meetings and event!
---
Our Employer Relationship
If you represent a company and wish to hold an event with us or recieve a resume book, please email uc.consulting.club@gmail.com or tmm1@uchicago.edu. We love working with companies and recruiting departments!


Most Recent Resume Book: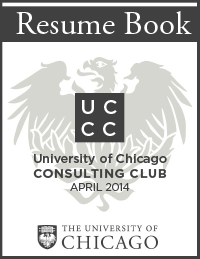 ---